super bien!
2006-2019
catalogue
185 Seiten
Related to Nature |
Broschüre
8 Seiten, Auflage 1500
Related to Time |
Broschüre
16 Seiten, Auflage 1000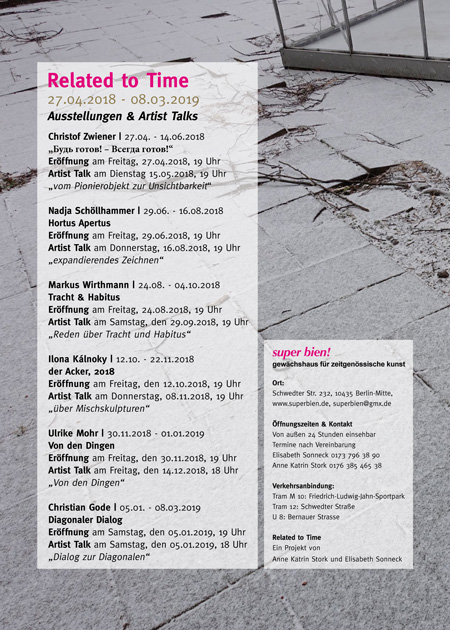 super bien! is a project space constructed from an ordinary green house. This is situated off a quiet street in a courtyard in Berlin Mitte. 24 hour public access allows projects to be viewed both day and night. The courtyard within which the super bien! green house stands is a bustling, lively environment surrounded by private residential buildings, a youth centre, kindergarden and the Milchhof artists studios.
It works as an adaptive rather than a static framework for the display of contemporary art. Its transparent walls are the sensitive skin of a fragile space which relates to its environment as an object and as a symbol.The super bien! greenhouse offers the opportunity to explore how an artwork communicates with the environment in which it is exhibited. Should the gallery be defind as a hermetically sealed space, - separated from the everyday or should it engage directly with the world?
The project aims to occupy the gray area between the notion of an enclosed museum and a concept of exhibition that allows and encourages public intervention. In this way, super bien! treats the architectural construction of the greenhouse gallery itself as an ideological framework which artists either embrace or negate.
super bien! was initiated in 2006 by Anne Katrin Stork, founded by the Berlin artists and members of the Artisthouse Ateliergemeinschaft Milchhof e.V. Anne Katrin Stork, Carlos Silva und David Keating. super bien! was run and curated from september 2007 to April 2018 by Anne Katrin Stork. From the end of April 2018 to March 2019, with the exhibition serie "Related to Time", super bien! is run and curated by Elisabeth Sonneck and Anne Katrin Stork. From March 2019 to december 2021 the super bien! project space is run and curated by Iréne Hug and Elisabeth Sonneck. New website: www.superbien-berlin.net
actual from the 12 th of february 2022 |
2022 copyright by super bien! and the artists. Alle Rechte vorbehalten. Reproduktion ganz oder teilweise nur mit schriftlicher Genehmigung.